I don't tend to post stuff like this without setting it to private. These thoughts are intensely personal, but they shape who I am today and as such I think it's important that anyone who cares to take an interest in my life has a chance to read how I feel about some of my recent history and how that's shaped me. If you want to know me as a person, this is a vital part of my life. Feel free to read or discard as you see fit...

Why is it that I still feel a strong connection with Scotland? I've lived there for 3 years but part of me has stayed behind. I can't claim to be even the slightest bit Scottish, but there is a certain something that just seems to have clicked with me when I lived there and even before. Certainly the very good experiences I had there with my then girlfriend and family life with our dogs played a very large part in that, but there seems to be more. An intangible quality that I completely fail to explain to people who either haven't been to Scotland or who simply don't get the appeal.

I first went to Scotland on a holiday trip back in December 2003. I was fairly active in the therianthropy community at the time and a "were meet" had been organised at the time to be held in Glasgow on Saturday the 5th. I'd never been to Scotland before and I didn't know much about it outside of a few stereotypes I might have heard of in years gone by. I didn't know it at the time, but that day would completely turn my life upside down for good and for bad, although in truth mostly for good. I flew to Glasgow a day ahead of the meet and got a taste of Scottish hospitality on the plane on the way there. It was only an Easyjet flight of just over an hour, but I shared a whiskey with a native on the plane while he spoke about what made Scotland great and what I should see and experience while I was there. I can't recall what he actually suggested I got to see, but the first contact with someone from a country I knew nothing about was a very positive one.

I checked into the youth hostel I'd arranged beforehand, right in the heart of Glasgow, next to the Clyde River and a short walk from just about any location in the city center. The room was tiny and the bunk bed barely fit me, with a thin mattress and creaking bed springs that kept me awake at night. Not that I could sleep all that much anyway, I was much too excited at the prospect of meeting likeminded people and a chance to share experiences and just have a good day out in an unfamiliar town. For this reason, and the overall excitement of going out on my own at 21 years old, without any organisation or suggestion from anyone else being immensely liberating, I didn't really mind the sparse accommodation. In fact in years following I'd often reminis about the place and the life changing event that would occur over the following few days.

I spent the first day exploring Buchanen street, the train station and Sauchiehall Street, but mostly Argyle Street and the St Enoch shopping centre. Even though it was a cold December day, not pouring with rain, but not dry either. I was entranced with my surroundings. Glasgow has some amazing architecture, and the hospitality of many people you meet is limitless. It's a day that has remained fresh in my mind like few others.

The next day was when I really found out how special a place this was. I had to meet up with people I'd never met before, but who apparently shared emotions and experiences hard to describe and few others have experienced. The thought of this made me feel very excited and relaxed at the same time. I'd finally be among people that knew how it felt. That understood. The meeting point was under the departure boards of Glasgow Central station, 8 am. However due to excitement and lack of sleep, I was there at 6 am already watching the daily commuters make their way to their Saturday jobs or tourists leaving for a trip to the highlands.

Eventually 8 am rolled by. I met up with a number of people who started to turn up. A few of which would turn out to be good friends for a period of time, others who I'd never see or hear from again. Among them was Padfoot, a fairly thin person wearing glasses and having a welcoming smile and a thick Scottish accent that for some reason presented no problem to myself what so ever, even though at the time English was my second language. I knew her from the therianthropy forums and she soon recognised me from my trademark T-shirt I still have today and wear regularly. It's a grey tie-die T-shirt with a wolf peeking round a tree. I've always loved the design, and that day gave even more meaning to it as a snapshot in time. Another person I became good friends with for a while turned up, who went by the name of Ryath. Quite a heavy set girl, but just as friendly and with a more northern accent that was slightly harder to follow as she was from Banff, a small torn toward the north coast of Scotland.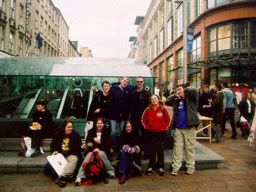 While we were talking others turned up, most of whom I've long since lost contact with. One of the people who turned up went by the name of Korrok, whom I'd heard of before on the forum. She didn't post much so I didn't know much about her. All I remember is that a week or so before she had offered to a few of us on the forum that we could stay the night with her. I didn't feel comfortable staying with a complete stranger at the time so politely declined the offer, opting to stay in the aforementioned youth hostel.

By the time everyone had turned up, we exited from the station through the side exit and made our way to Cafe Nero across the street. We spent a good few hours there talking about a verity of subject including therianthropy, the dichotomy between furries and therians - as we did have a few furs in our group - and our personal experiences and backgrounds. It was at this point that I became increasingly curious about Korrok as a person. I'd already taken a liking to her the instant I met her, but the more I got to know about her, the more I was intrigued.

At this point I feel I should mention a bit about her. She was a person that I found very attractive from the moment I met her. She doesn't conform to any standard as set by magazines or popular culture, but to me she had a certain cuteness and depth I felt few could see. I certainly saw it and the more I learn about her background, the more I came to like her as a person. Her stories of a deprived background and her refusal to give in to the bullying at school and become one of the delinquents struck a chord with me. She was no angel throughout her life, that was clear, but then none of us are, and she was brutally honest and obviously in a lot of hurt from her marriage with someone who couldn't provide the aspirations she had. I became entranced with her after only a few hours, wanting to know more and more, and as I found out more, only feeling myself more drawn to her. I'd never felt like this about anyone.

I remember my heart sinking when the opportunity arose to sit on the couch next to her when Padfoot had to go back to the station to pick up a few others who arrived late. My heart sank when I realised, as I debated in my head what to do, another person from the group had taken Padfoots place to talk to her. I thought at that point I'd blow my only chance to really get to know her. Ridiculous as that was as I even realised at the time, she was married. She was off limits. But I couldn't extinguish that interest that by now had formed.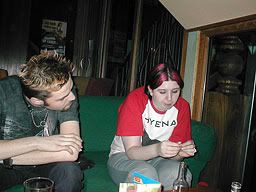 Throughout the day we ended up doing various activities all over the centre of Glasgow, going from pub to pub, or going to the cinema, only to leave 15 minutes into the film as we couldn't stop laughing at the noise of the sliding doors in the sci-fi film. Losing people along the way as they bid us farewell and made their way back home. By the end of the night it was just myself, Padfoot, Ryath and Korrok. Ryath later recalled that she noticed my liking for Korrok at the time, but honestly by the evening I was too drunk to really be aware of how I came across. Most of the evening is a memory from the pictures I still cherish.

I ended up back at the youth hostel probably at about 3 am, looking back on one of the most amazing day in my life so far. I wondered if I'd ever meet up again with the 3 friends I'd made that day, most notably Korrok. Little did I know what would happen in the next few weeks as my plane took off from the now rain soaked airport back to life as I knew it in Holland.

The following few weeks were very odd. I'd quit smoking by that time as I wasn't happy with how I came across to people and the weekend to Scotland had only solidified my resolve. It was one of the best decisions I've ever made for my health and remarkably easy when you go cold turkey with the resolve I had at the time. My parents went to France for a two week skiing trip as they usually did around Christmas, but this year I'd opted out of coming along, my mind spinning with the emotions and experiences I'd brought back from this fascinating place I'd visited. I spent hours talking to Korrok on MSN, learning yet more about her situation and her grim outlook on life. I felt terrible. here I was with feelings I couldn't explain to anyone, 300 miles away not being able to comfort someone I came to care about so deeply in such a short period of time. I still have all the chat logs from back then stored in multiple places and wherever life takes me, will always remain cherished and sacred.

We laughed together, cried together and shared out life stories in those weeks. Realising just before the new year that we had deep feelings for each other. A connection that transcended anything else we'd ever known. She wasn't happy at all with the person she was with and he didn't seem to mind what happened either way. He was happy to take a step back and stay friends with her and let Korrok pursue new frontiers and relationships. We finally admitted our love for each other, resulting in an outpouring of emotion and talk about when we could possibly meet up once more.

I didn't waste time and made sure that I'd arranged a hotel for us to stay on and a weekend with nothing to do in Glasgow for the second weekend of January 2004. The weekend passed quicker than I could have anticipated, leaving me feeling unlike anything I'd felt before. Here I was, having confirmed how I felt for her and elated that she felt something for me too. I couldn't wait to see her again. She confirmed that her then husband Craig was happy to let go of her. Not sharing the feelings he once did, he preferred turning the relationship to a friendship and showed no animosity when I'd come over to visit in the following months.

I took every opportunity to go back to Scotland to see her for the next two months, fast depleting the savings my parents had built up for me over my lifetime. She lived in a tiny village called Tweachar, just south east of Glasgow, with only 1500 inhabitants. Most people there knew each other and were related in some way, sometimes distantly, sometimes closely. But there was a community spirit there like I'd never seen before. It was a real us and them mentality, the real working class. Class doesn't play much of a role in the Netherlands in my experience and this was completely unfamiliar to me. Again the situation intrigued me, partly due to the unfamiliarity. Korrok, her dad who lived a few streets up the road and Craig were pretty much outsiders, not related to anyone there and coming from Lennoxtown and Greenock respectively.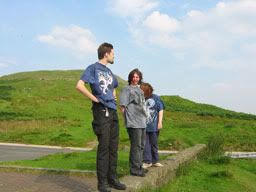 I quite liked the surroundings. The village itself was not particularly nice to be honest, being all council housing, 4 families per block spread over two floors. Every house had what I now know to be typical council house rough cast walls, cheap fixtures on the outside and a variety of maintenance problems ranging from dampness to tears in the walls. But the countryside around it was amazing. We were 5 minutes walk from the local park, but more than that, we were next to Barr hill, the most northern settlement the Romans ever built apparently. We could look out the front door straight on to the Campsies, which seemed a sort of appetizer for the highlands, being a steep hill with few buildings if any and little vegetation apart from grass and shrubs. We were surrounded by nature no matter where we went around us, and still only 20 minutes drive from Glasgow city centre, and a sizable Town called Kirkintiloch 10 minutes away. It felt home quite quickly, even though I was still getting used to the oddities of the culture.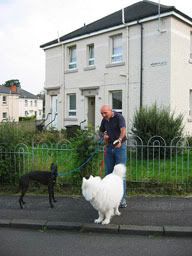 I spent about 3 months shuttling back and forth between Scotland on the weekends and Holland during the week to continue my studies as an Automotive Mechanic. I'd do my best to hide the fact that I'd bought tickets with Easyjet yet again to come over to make it a surprise, but every time I'd end up telling her shortly before I was due to leave that I was coming. It was fantastic when I did, we felt so close and so lucky to even have the chance to be together that it didn't matter where we were. While she lost her feelings for me years later, I am proud to say, as much as it hurts me emotionally and mentally, that I still retain to this day my feelings for the person I knew then. I remember being introduced to her various interests, playing Final Fantasy X to silly o'clock in the morning, watching Red Dwarf, the 80's cartoon Visionaries, and introducing me to various bands I'd never heard of before like the Backyard Babies or the Wildhearts or bands I had heard of before, but only in passing such as the Manic Street Preachers. I had one of those CD's on pretty much continually in my car in the Netherlands when I wasn't with Korrok. Usually when driving between home in Papendrecht and my collage in Rotterdam. I still feel very emotional whenever I hear songs from the albums I used to play when I couldn't be with Korrok.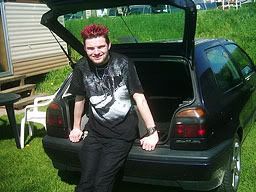 It was during this time I also got to meet Korrok's dad. He was someone who looks quite old, showing a weathered face from years of riding motorcycles with open face helmets and with lines showing the tribulations he had to face in his life. But he had a youthfulness about him that felt very welcoming once he realised my true intentions with Korrok. He obviously cared very deeply for his daughter, not always in a way she understood herself, and made sure I wasn't some random fling that was going to ruin what she had.

It didn't take too long before we decided we really did want to make this a permanent relationship, and started looking for options how I could either come to live in Scotland or she could come live in Holland. Initially the latter seemed the most logical choice as I was already doing a course in Holland and she didn't have any obligations in Scotland. I ended up looking at various housing options, mostly being cheap rented accommodation with little help from my parent who were understandably very dubious about the relationship.

Eventually the choice became obvious. Korrok suggested I should look into doing highers, which are Scotland's equivalent of A levels, and doing university. Something I could not do in Holland due to the educational system. I ended up choosing to look into Automotive engineering after looking at game programming and other passing interests I'd had. The first place I'd phoned, after Korrok had compiled a list of questions on the back of an envelope I probably still have somewhere, was very forthcoming. I spoke to David Kennedy, head lecturer at Bell Collage in Hamilton. I asked what highers I might need to take to be able to do their 'Product Design with Motorsport' course. He was impressed enough over the phone to invite me to a formal interview, basically saying "never mind those highers, you seem to know what you're talking about anyway". Before I knew what had happened, I'd signed up to the course, never having gone through the normal channels of UCAS and the like.

Now the choice was clear; I had to move to Scotland. By this time Craig had already moved out, going back to live with his parents in Greenock. So I moved in with Korrok at 13 Merryflats in Tweachar which would remain our home for 6 months.

I should at this point talk a bit about our dogs. Korrok has always had dogs, either of her own when she was living along from the age of 16, or with her dad, who had Sheila for many years, a crossbreed. I've had an interest in dogs for a long time, my parents having a Husky named Senna. But I only really began to build up a real connection with the dogs Korrok had. Jazz was a Samoyed from a rescue, he was 9 when I moved to Scotland and was a great dog. He seemed like a wise owl, never getting worked up about anything, never showing aggression to other dogs or people and being an understanding companion in times of joy and hurt. Riker was also a rescue, a Lurcher, greyhound crossed with a whippet, or so we guess. She got him as a young puppy not that long before she met me. He's an amazing dog, very intelligent, playful, food obsessed, especially in his younger years, and very empathic to people around him, but most of all to Korrok.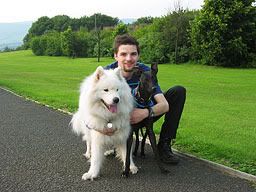 We ended up doing some greyhound rescue while we lived in Tweachar, for Greyhound Gap. It was very rewarding to know you'd basically shaved a dog from a horrible death and allowed them a new lease of life. Most of these dogs were kept at dog racing tracks in conditions a veal calf would find horrid. Most dogs were 2 or 3 years old if they reached rescue (most would die by downing or a shotgun once they were no longer competitive) and home life was completely alien to them. The first dog we fostered was called Jack, who adapted to home life very quickly and got on with the other two dogs very well. The other later foster dog we had for a number of weeks we nicknamed Stupid. This was meant entirely affectionately, but was simply because he didn't even grasp the basics of steps or doors. He'd simply trip or bump into them. The organisation managed to find a home for him and he's probably living happily with a family still now.

The first month or so in Tweachar were a flurry of buying new household items, from towels and plates, all the way up to spending a ridiculous amount on a washing machine made by Dyson. Probably one of the best buys I've done though, as it's never broken down on me, and washes clothes without damaging them in the long term. I still have T-shirts from 8 years ago that look like new thanks to that machine.

Moving over to Scotland meant I had to leave behind my first car. A VW Golf Mk3 I'd become quite attached to. It seemed too difficult and costly to bother importing it to the UK, but in hindsight it might not have been as bad an option. Either way, my dad sold it for me, for much less than it was actually worth. Korrok told me I should spend the remainder of my savings on a new car as she could see that cars were a big interest for me. I'd already bought a cheap Renault Clio for £800 but it was hardly an enjoyable mode of transport. By the summer of 2004 I bought a BMW 323i Coupe after considering a Nissan 200sx and another VW Golf. I was really after a 328i, but this car was as tight as a drum. Felt like new, had a not unreasonable 101569 miles on the clock and was in too good a condition to worry about the 0.3 litres deficiency in engine capacity over the 328i. I still have the car today, nearly 7 years later. It's been extremely reliable, needing only minor work and still driving very taught.

Korrok tried a few courses at a few collages at the time, but couldn't cope with it as she was suffering from clinical depression. She decided that she wasn't ready to do that yet and left it at that. I never had any problem with this, having always seen myself as responsible to provide and try to give her everything she needed. A task I feel I failed at in the long run.

I was getting on with my course at university quite well at this point, and my parents eventually agreed that we'd be better off if they bought us a house to stay while I was studying in Hamilton from their retirement fund. The original idea being they'd make some cash on the house while it appreciated and we'd be relived from the stress of rent. It didn't quite work out as my parents have planned and to this day they still own that house, renting it out and waiting for the right moment to sell it so they don't end up losing too much on the whole deal. I have to admit that over the years, I've not been a healthy influence on their retirement pot. But they are very happy to see me do well at university, so it's not been in vein.

Leaving Tweachar didn't seem too hard a thing to do. The surroundings were amazing, but the village itself was isolated and grim. The whole place was a reminder of the sort of lifestyle neither of us wanted. We found a nice house in Hamilton within budget, in a reasonably decent area that fit our requirements just fine. We really felt like a family at this point. Neither of us having any interest in having kids and viewing our dogs as that part of our family. This was probably the happiest point in our relationship. We'd even picked 2007 as the year we'd get married, although it felt like we already were.

By now I'd integrated into Scottish culture reasonably well. I'd never fully copied the accent, although I still retain parts of it. I felt at home and was proud to be part of Scotland in a small way, I still am proud of that today. We had a small but tight knit group of friends which included Padfoot and Kelpie as our closest friends. We'd see them on a very regular basis and things seemed to be going extremely well. Korrok even seemed to be getting a handle on her clinical depression with the help of Effexor.

We initially got Tag, our German Shepherd, after Korrok suggested Riker would probably not do too well on his own and it was obvious Jazz was getting on. She expressed her interest in German Shepherds while out shopping in Glasgow one day. I didn't know much about the breed, beyond it's working dog background. But as I learned more about the breed I became more convinced. We found a breeder who ran a German Shepherd kennels, called High Gooseloan, near Kilwinning. They were exactly what we were after, their Shepherds well looked after with everything done to the book. Adult dogs being hip scored wherever possible, regular vet visits to take care of pups and adults and breeding done to the highest standards. We got to see the recent litter and met the parents. Tags dad was even more massive then he turned out to be, with a very similar character. His head was as long as your forearm, his bark friendly but imposing. His mother was slightly less energetic, having a more cautious approach and more gentile demeanour, but very approachable and trusting. The pups were in a large kennel space specially built for new litters at the back of the farm house, with a large patch of land adjoining it for the pups to play and explore under supervision when the time was right.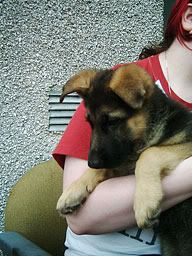 It would be a week or two yet before the pups were old enough to find their prospective homes, but we were already captivated by them. We got quite a few questions asked by the friendly couple who ran the Kennel. Making sure we were the right sort of people and would care for our new pup correctly. We agreed on a date to return and take home our new pup. When we arrived we were led back to the puppy pen and the pups were let out to play and for us to choose who we'd be taking home.By this point the litter was still quite large as we were one of the first adopt one of them. There were three pups we took a liking to. They were very playful with each other and not at all shy. One in particular seemed to run over to us inquisitively more than the others. His mostly black coat hiding the lighter tan that was starting to show through slowly as he was getting old enough to explore. He was 6 days short of two months old, having been born on 16/07/2005. The choice was unanimous and we duly went over to their office to sign the paperwork, proving he was kennel club registered and complied with the breed standard. I signed forms to confirm that he was to be kept as a pet and not be used for breeding and so on.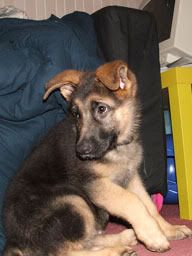 Heading back to the kennels with the leash we brought along, it was easy enough to spot him again. He was the first to run over and seemed to have already taken a liking to us. It felt perfect, a beautiful sunny day with only a patch of cloud here or there, we drove back home with our new puppy sitting on Korrok's lap. We had a large box on the back seat with a thick fleece sheet for him, but he was too active and we worried he'd go flying through the car if I had to brake hard for whatever reason. So in Korrok's arms it was. It wasn't too long before our new pup seemed to really dislike the journey, becoming visibly carsick as we had to navigate the country roads back to our home just over an hour away. We had to stop in Stewarton in a bus stop and as soon as Korrok opened the door after she'd flung on the leash he had to spew. After a quick 5 minute walk he seemed fine again and we continued on our way. He seemed to be enjoying the trip a lot better now. Looking out of the window as much as he could and trying to slip out of Korrok's hands and get into the foot well to explore there.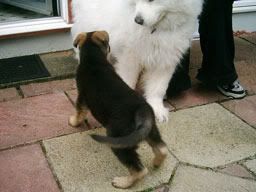 By the time we got back home we had him meet Riker and Jazz on neutral ground in the back garden. Jazz didn't seem too interested in all the commotion and after a quick greet went back in and lay in his usual spot in the living room. Riker was much more curious about this new playmate and it was hard to stop him from jumping up to see the pup in Korrok's arms. We were worries he'd accidentally hurt him with his long claws. He'd scratched us often enough in play. But our worries were soon over when we gave them a chance to get properly acquainted. They became buddies almost instantly. A few days later we named him Tag, after a large greyhound Korrok had fostered who she'd become quite attached to at the time.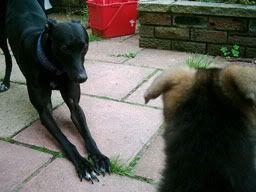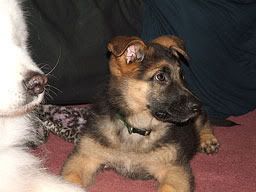 Towards the middle of 2005, going on 2006 we both admitted that while we were both therianthropes, we were both curious about the furry community. There has always been a divide between the two up to that point, but we decided that the furry thing was just a hobby at the end of the day and it didn't mean we took our therian feelings any less seriously. We ended up both commissioning fursuits, Korrok commissioned Lacy for a Mightyena fursuit head, I was to construct the rest of the suit. I commissioned Scribblefox for fox fursuit head shortly after. This was later sold to Gaz_A as for some reason I can't get onto character with a partial.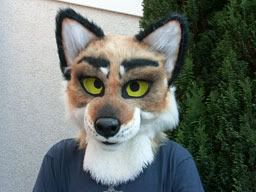 In february 2006 we went to the US for the first time for both of us, going to our first convention. Furry Weekend Atlanta in Georgia, southern US. I'd built myself a full suit by then, pretty much specifically for the convention. It was an amazing experience. I remember looking out the window as we were about to land and being amazed at the sheer vastness of the US.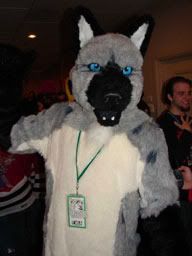 Later that year, Korrok ended up involved with internet drama. Partly due to an attempt at defending comments made by Padfoot. I have to say none of us were all that internet savy at that time. Long story short (this is long enough as is!) Korrok got seriously hurt emotionally through this and both of us ended up losing our friendship with both Padfoot and Kelpie. I don't think either of us still really understand how that happened at the time.

A lot of things seem to have happened in quick succession after that, or simply time seems to have run very fast for a period of time. I made some bad decisions, most notably buying a wreak of a VW Golf against the advice of Korrok, Korrok got more isolated and started playing first Guild Wars and then World of Warcraft which had a noticeable impact on our relationship, becoming more distant as time went on. Jazz's health had declined to the point that we had to take him to the vet to be put down. A very difficult decision, even though he was about 18 years old. We were all the more glad to have Tag as well as Riker to comfort us with the loss of a great companion.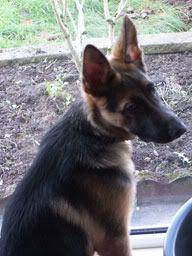 I was close to graduating from my course at Bell College, but didn't really know what to do afterwards. The degree, while certainly not useless, didn't feel like it would open as much doors as it should. After speaking to several colleagues at my course about their plans, and talking to my parents and Korrok, I decided that a second degree, at one of the most accredited universities for this type of engineering was my best bet. Now that I already had a degree, there was no reason on educational grounds to reject my application. I made my way to the University of Hertfordshire for their open day with two other students from Bell College and was struck by the professionalism of the place. It wasn't long after coming back that I called them to ask about joining their course. I could get on, but because I hadn't been tough any aerodynamics before, I'd have to start from first year. Again my application didn't go through UCAS at all.

The first revisit to Hertfordshire to sign the paperwork saw me also doing viewings for a new house. Stevenage seemed a good place to look. Cheaper than most of Hertfordshire as it was in the flight path for planes landing at Luton airport, the first few viewings on day one were not encouraging, being shown houses in areas that felt run down and built up. At least I'd already arranged to stay in a spare bedroom someone was offering until the new house was sorted and ready to move into. The house in Hatfield was co-owned by two recently graduated students who were trying to find their own direction since graduation. They were very nice people, but I found that I just don't do well with house shares. I can be a very private person, needing my own space that only friends and family can enter at all times. What were to me effectively strangers, however welcoming and friendly, made me turn inward during this time and spend most of my spare time in my room, on the computer.

Amazingly during that first weekend, at a last ditch house viewing on the morning before I had to head back up to Scotland I got a feeling of "this is it". I was getting slightly discouraged after looking at 6 or so houses that were either too small, too expensive, too run down, or all of the above. On the last evening I passed the window of a local estate agent and spotted what looked like a nice place in the pictures, and right at the limit of our budget. I arranged to see it hours before I was due to leave. The house seemed smaller than what we had in Hamilton. still a semi-detached, but with a much smaller kitchen and a living room that felt somewhat cramped thanks to a rather large dining table of the then owners. But location wise it seemed very nice. It was in a quite area, built somewhere in the 80's, right next to a forest and the fields of Hertfordshire. This was far enough away from Luton that the planes flying overhead were high enough up to not be much of a bother. It even had a secure back garden for the dogs and a garage for my car.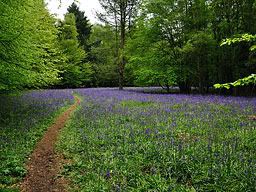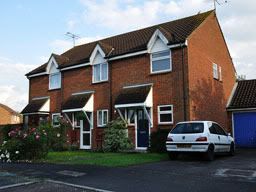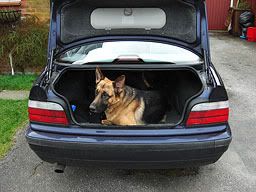 It would be a few months before all the paperwork was sorted and the then owners had moved out. By Christmas we were settled in, but Korrok obviously didn't feel all that at home. She said there was an anti-Scottish sentiment in England, which to some extent was true. And for the first time she was more than 45 minutes away from her dad, which seemed to make her all the more uncomfortable. They didn't get along at all if they had to live in the same space, but provided a vital line of contact when at arm's length and would visit us very often in Hamilton, something he couldn't do now that we were at least 4 hours away.

Things seemed to be going alright at first. Korrok loved Camden town in London, for its alternative culture and we went for regular nights out, seeing bands play music she had taken a huge liking to. Obscure to most people, this form of electronic music felt more earthy than most and fit well with the Goth like culture that surrounded it. She played the music almost every waking moment. It took a while, but eventually I started to take a liking to some of it as well, with bands like Combichrist, Mesh and Faderhead becoming my preferred sounds. Having said that I haven't listened to much of that since last year. It's become somewhat poisoned subconsciously and I can't really enjoy it that much. On top of that I have since had a chance for my own musical tastes to redevelop which saw Metal come back to the forefront with bands like Dream Theater, Guano Apes, Pantera and Metallica taking centre stage.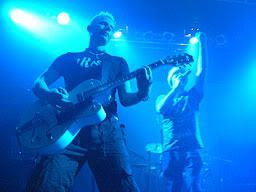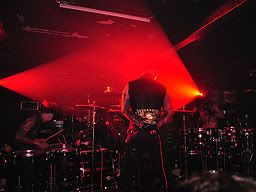 But the overriding theme in Korrok's life increasingly became World of Warcraft. It's hard to explain to anyone just how damaging that was to our relationship and what it did to both of us mentally. She still couldn't work because of mental health issues and was spending almost every waking moment on the game. Korrok's personality changed fundamentally from the person I knew and loved for the first 3 years, choosing to only really interact with the people she considered friends in the game. I became more negative myself as well, taking less care of myself as it all seemed rather pointless, becoming more selfish to plug the gaps opening up in our relationship with material things I didn't really need.

As part of my university course I had the chance to do a years work placement with an engineering company. We had most of our second year to apply to offers that came up through the universities placement office. I applied unsuccessfully to a few, which included positions at Toyota UK and X-track, but at the start of 2009 got an e-mail back from a company just as I was about to get on a plane in Atlanta airport as we were heading back from our trip to Furry Weekend Atlanta that year. It was from racing brake and clutch manufacturer AP Racing offering a phone interview. I was ery pleased to hear from them and was amazed when I was asked later to come for formal interview, since I felt the phone interview had gone a bit shaky. I did much better on the formal in person interview in Coventry and was impressed with their facilities and work environment during the tour. It didn't take too long before I had an offer for a place in their Race Clutch department. I was ecstatic and immediately accepted to start by June. I still had to sort out accommodation in Coventry but soon found a house in Coventry in a not particularly nice part of the city where I could share the living space with 3 other students. It was cheap and that was all that really mattered. Korrok would be staying in Stevenage at our house there with the dogs and I'd come back during the weekends.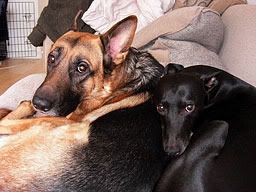 As I was preparing to start my work in Coventry for the next 12 to 14 months, Korrok started suggesting Tag was becoming hard for her to manage and was worried she wouldn't be able to cope with him while I was away. It didn't take too long before she was starting to insist it was better we rehomed him. I was shocked to hear this. I'd grown incredibly attached to Tag, he was more hyper than most German Shepherds in my opinion, but that suited me fine. He was the most unaggressive dog I've ever known, but at the same time wanted to play with everything and everyone. He was huge as well, even by German Shepherd standards. And although he wasn't the easiest on walks, pulling constantly on the lead, he was certainly not unmanageable in my view. He was more than happy to stay at home for long periods of time by himself and would always greet us with unlimited enthusiasm when we returned, regardless if it had been 8 ours or 5 minutes.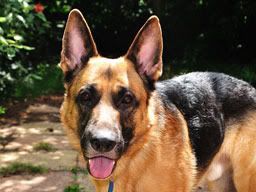 He had a heart of gold, always concerned with us. I had a very deep connection with him. He was always up for playing, always wanting hugs and attention and refuses to sleep if he's not lying right next to you or on top of you if you don't watch out, resulting in legs that are asleep or paralyzed by morning! He seemed to have infinite energy. I tried wearing him down once, getting him to run to tire him out. I got sick of it after 45 minutes and took him back home. 10 minutes after getting back he was dropping his rawhide bone on my lap for a tug of war. If you wanted an easy dog Tag wasn't it. But then what's the point of a god that just sits quietly in the corner all the time. If he was lying on the floor half asleep, you'd slap your hands on your knees while calling his name and he's be bolt upright with the chew rope already in his mouth, even before you finished saying his name. Some things he just didn't get though. Riker would go berserk if you blew through a toilet roll or kitchen roll tube (I still haven't figured out what he found so exciting about them!) and Tag would just be looking on in that "WTF are you doing" kind of dog way. Tag was immensely intelligent though. He always seemed to be aware of what was going on around him. Riker was probably more empathic when you were feeling down, but for me Tag made you realise there was nothing to worry about with his perpetual optimism.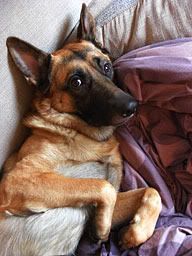 The problem for Korrok was that he was a bit demanding of attention if you happened to be playing World of Warcraft all day to the exclusion of all else. He'd jump and bark at the back door to be let out and as soon as you did he'd insist on coming back in, then out again and so on. What he was actually doing was saying "come out back and play!", but it was too much of a distraction to Korrok's raiding so he had to go as he was "unmanageable". She eventually convinced me that he was somehow better off with someone else and it wasn't long before we were dropping him off at rehoming kennels ARAS in Bedfordshire. It was then that what was happening hit me and I got so upset that I could hardly sign the document handing over ownership.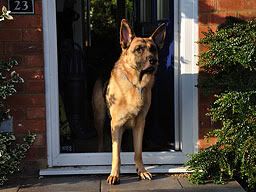 The next few days I tried to regain my composure, but each day seemed harder and harder. Korrok eventually agreed that I could ask them if we could have him back if he hadn't found a new home yet and she wouldn't hold it against me if I did. It didn't take much persuasion before I had ARAS on the phone asking for Tag back. 40 minutes later I was the happiest person on earth with Tag in the passenger seat of the car on the way back home. I was so glad I had him back, and averted what would have been the greatest mistake in my life. Tag, as happy as ever to see me again, didn't have much of a clue what was going on. To him he'd just been in kennels for a few days while we'd been on holiday as per usual.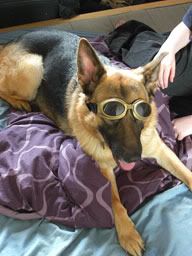 This elation lasted only a few weeks, by which time I was ferrying between Coventry during the week and Stevenage on the weekend. Korrok did her best to not hold my decision to get Tag back againt me, but quickly failed. She became increasingly angry with me over the whole affair and was blaming Tag for everything wrong in our lives. Before I knew it we were back to talk about rehoming Tag, but this time it carried the ultimatum of "it's me or the dog". I didn't have much control over the situation, being away 5 days of the week. I tried desperately to find a way to keep Tag or rehome him temporarily until my placement year was up. I even asked the landlord in Coventry if I could take him with me. They understandably refused.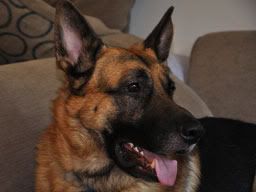 I was out of options and by this point Korrok took matters into her own hands. She'd arranged for Tag to be picked up on a Saturday with some organisation. I spent my last night sleeping very badly, with Tag next to me as usual. I'd reluctantly chosen my relationship with her over Tag, but I had thoughts about barricading myself in the bedroom until the people picking him up had left from frustration, or driving with tag somewhere I couldn't be found before they came. In hindsight I wish I had done one of those things. By morning two people, a man and woman in their mid 20's, turned up at the door to pick him up. I was too exhausted and upset to say much. Korrok handed Tag over with the minimum of instructions, leaving all his paperwork and history with us. Tag was happy enough to go along, another chance for a walk as far as he was concerned. I didn't know where they took him but 2 hours later I was upset enough to jump in the car and drive around every park in Stevenage, hoping that they'd be walking him there with a prospective new owner. Obviously this was completely futile. Korrok was cold as stone throughout all of this. I still have all of his paperwork, including the ownership document with my signature at the bottom. This was the darkest day in my life, and will remain so till I die.




Even though I'd chosen my relationship with her over Tag, 6 months later I came to realise just how big the mistake was of letting Tag go. By the start of January 2010 it came to a head when I found out one of her friends had talked her out of a suicide attempt while she was visiting them for what she intended to be a last goodbye. She'd been planning it for a while and I later found out that she saw me nothing more than a house mate for over a year before that and would talk about me as such to others. I never knew at the time. She didn't have the guts to tell me at the time, and although I should have been able to tell from how she treated me, my love for her made it impossible to contemplate something like that.

She went back to the same friends for 3 weeks to sort herself out with a change of scenery as she described it. She returned after these 3 weeks to tell me that it was over between us, she was moving in with that friend permanently in 2 days' time. There are few words to describe the feelings of dread, devastation and despair someone feels when 6 years of a relationship come to an abrupt end when you still love that person as much as when you first met. She took the items she cared about with her, leaving a lot of her life behind with me, a constant reminder of what once was, even to this day. When I pressed her why she was moving in with this friend she admitted she had started a relationship with him. I've always said to her from the start that if she were happier without me, I would not feel bad about letting her go. But this was different; she had dumped me for someone else. And I still think she might well have been with him for longer than she let on. This wasn't how I meant our lives to go.

It took months to even feel slightly normal again, still feeling strongly about her when we met again at Eurofurence in August of 2010. But when I later learned she had used the opportunity to spread lies about me and slander me, I decided to burn the bridge of communication I'd maintained with her and tell her exactly what I thought of her for doing that. That was a big step in letting go as it exposed that she really wasn't the same person anymore that I met all those years ago.

I still haven't fully let go yet. I don't know if I ever can, but I have moved on. Reasserted myself in life and am making my own path once again. I have developed my own social circle, with what are now close friends who I value above all else. I'm still not sure what I'll be doing once I finish university, but the options I have open to me and the choices I am about to make will be for the right reasons. Her ethics have stayed with me, many things I'd never thought of before she made me think about. I remain shaped by her, my views on people, animals and politics still reflecting in large part what she instilled in me in those early years. I am proud of what I believe in, and thankful that she gave me that. But I also can never forgive her for the damage done in the last chapter of our time together.

By the summer of 2010, about one year after I lost Tag forever, I got increasingly anxious and wanted to find out if Tag was doing OK. I tentatively asked Korrok what organisation he was rehomed with so I could contact them and ask if they could ask the new owners how he was getting on. Korrok refused to tell me. She claimed that she couldn't remember, but I don't believe that for a second. She has a better memory than me and rehoming a family pet, especially in emotionally charged circumstances isn't something you'd forget. That is to say, either she's lying and she refuses to tell me on grounds that she fears I'd try to get him back. Which is ridiculous, as I'd never do that to Tag. Uprooting him yet again purely for my own benefit would practically be a crime. The other possibility is that she genuinely doesn't remember because she just rehomed him with the first organisation that would take him, with no concern for their methods or ethics, which would just be plain evil. Tag's life has immense value and not checking the background of the organisation to make sure he'd be rehomed responsibly is just as criminal as attempting to get him back.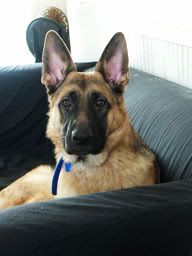 Either way I wasn't going to get an answer from her. I ended up phoning or emailing every German Shepherd rescue in the UK and most generic dog rescues in this area, asking if the description of two people in their mid 20's picking up a dog from Stevenage seemed familiar to them. All came back saying they didn't normally pick up dogs, and those that did said they would have us sign forms and leave paperwork with us.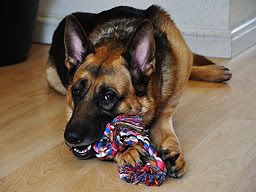 To this day I still don't know where he might be, how he's doing or if he's even alive. I worry about him every day and can't help but frantically try to determine if I recognise any German Shepherd I come across no matter where I am in the country. A few times I felt like I saw someone walking what Looked to be Tag, which always prompts me to drive past them a few times if I'm in the car to make absolutely sure that it isn't him. Only one dog in Stevenage I've not yet ruled out to be Tag. I started spotting him being walked by his owner around Christmas this year. He has a slightly darker coat than Tag, and a bit more grey as well, but then I haven't seen him in almost two years now so he might have changed. I probably won't be able to rule him out until I get a chance to walk pass him at some point. I'd love it to be Tag as that dog seems to be in capable hands and looks healthy, but the chance of it really being Tag is remote at best.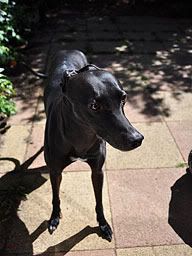 Riker is currently with Korrok's parents. As far as I know he'd doing well and he's in fairly capable hands. Korrok's arranging for him to live with her in Holland once he'd got his pet passport sorted. I would have loved to have kept Riker myself, but he's always been her dog, and the fact that I know where he is and how he's doing makes saying goodbye much easier.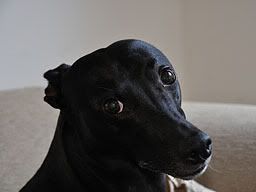 I deeply miss the companionship Tag, as well as Riker, Jazz and the rescue dogs we shortly had, gave me. It's a hole in my life I will need to fill to be happy again and is a major driver in my current decisions about my future. I look back on my life over the past 7 years, none of which I could have seen coming before that weekend I spent in Glasgow, back in 2003. Maybe that's the reason I feel part of me will always reside in Scotland?

...

Footnote: There are always two sides to a story and what I have told here is my view on a very complicated part of my life. I'm sure Korrok has her own views on many of the matters I've discussed here and would disagree with certain points. By no means do I intend to create any offense to anyone and that includes Korrok. I do not want people to form an opinion on her or anyone else based solely on my views and experiences expressed here. If you have any questions or criticisms please talk to me, I will not take offense.